Learning about GUIU's University Pathway Program 
Have you been thinking about doing higher education in Spain? Do you want to do a bachelor's or master's degree but are sure which step to take next? This is where the University Pathway Program by GUIU can help out anyone who wants to do university in Spain.
We understand that going to school in Spain can be a big decision. That's why we're giving you a breakdown of entrance exams in Spain and how Academia GUIU can help you on your journey to studying in Spain. We'll cover things like:
Spain's University Entrance Exams

GUIU Acadamy

The University Pathway Program by Academia GUIU

The benefits of the Program

The Logistics of Studying with GUIU
Entering the Spanish Education System
In Spain, a public university's decision to accept a prospective student or not is mostly decided according to their scores on university entrance exams. Colloquially these are known as the examenes de selectividad. The largest of these is the Evaluación de Bachillerato para el Acceso a la Universidad (EBAU), or the Prueba de Acceso a la Universidad (PAU) in some regions. 
Aside from this, there are also Specific Competency Tests (PCE), which can vary according to a prospective student's educational background and the study program they're applying for. Students with a bachelor's degree done outside of the Spanish education system must take the Specific Competency Tests (PCE) since they are required by Spanish universities no matter what degree you're applying for.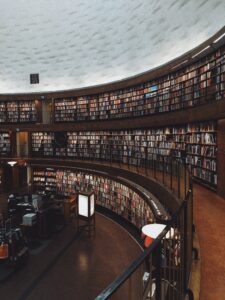 Who is the University Pathway Program For?
The University Pathway Program is designed for students who want to study within Spain and who already have a bachelor's degree or one that was attained in an education system somewhere outside of Spain. Moreover, prospective students should already know which study program they want to apply to. With that, Academia GUIU can give you the best chance of success for entering the Spanish university system.
Introducing Academia GUIU
For more information about Academia Guiu, we actually go into detail about the school in this article. That being said, we'll give you the short version here. 
As of 2022, the school is 130 years old and is accredited by Instituto Cervantes as well as SIELE. The school has two locations in Barcelona's Eixample district. Each location has great amenities for students including classrooms, social spaces, a library, and other facilities to help you learn.
One of the best strengths of Academia GUIU is the experience and skills of its teachers. The school has been working with international students for decades to help them enter Spanish universities. That means you
Additionally,  GUIU has a staff of teachers for specific niches. Every instructor has their own areas of expertise that are shaped by the exam itself. Likewise, the school can help guide you and teach you in a way that is tailored to your previous educational background. You can take different courses depending on your specific needs, refreshing what you already know and focusing on what you don't. All of which make Academia GUIU stand out.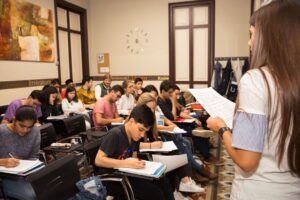 Different Programs for Different Needs
Academia GUIU offers three different university pathway programs depending on your needs and background. These are the annual pathway, intensive pathway, and intensive II pathway. Of these the annual pathway program lasts a longer amount of time, while the intensive II pathway program is the shortest. As you might expect, both the intensive programs are….intense. As such, they condense a lot of material into a shorter period of time. 
Advantages of studying with Academia GUIU
Preparing to enter the Spanish education system with the help of GUIU comes with a lot of benefits. Aside from having years of experience teaching international students, the academy also helps students with the application process and can give advice on how to go about it. As such, the school helps take care of things like arranging and sending in documents and certificates to the right places as well as registering for exams. With GUIU, anyone looking to enter into the Spanish educational system can breathe a bit easier knowing you're in expert and experienced hands.
Logistics of the Pathways Program
Citizens of non-EU countries can stay within the European Union for up to 90 days without a visa. However, if you plan to stay longer, then a visa is an absolute necessity. That being said, it's a good idea to get a visa no matter what. Naturally applying for the program with a visa will cost a bit more.
We've broken down the cost of each program below so you can compare the prices for yourself.
Annual Pathway course with a visa - 4410 euro

Intensive Pathway course with a visa - 2835 euro

Intensive II Pathway course with a visa - 2365 euro
Final Thoughts on the University Pathway Program
When it comes to getting prospective students ready for the Spanish university system, Academia GUIU has the experience and expertise to make the path easier. While you will almost certainly have to take an entrance exam, GUIU can help direct your study so that you learn what you really need to. Moreover, the school gives students loads of support for the application process itself. So if you're ever unsure or uncertain, you've got plenty of back-up to help you out along the way.