Exploring Spanish Architecture and Barcelona
To walk around the city of Barcelona is to see centuries of different architectural styles and influences all within a single stroll. Among other things, Barcelona is one of the top destinations for architecture enthusiasts around the world and for people that want to learn Spanish.
But what makes the architecture in Barcelona so special? That's what we'll cover in this article, touching on things like
Barcelona's long architectural heritage

Major architectural movements in Barcelona

Some of Barcelona's must-see buildings
Keep in mind that the topic of architecture is vast and covers decades of history, so we won't be covering everything and a lot of it will have to be condensed.
A (Very) Abridged History of Architecture in Barcelona
Barcelona is an old city. A very old city. In fact, the city is so old that archeologists tell us that the area has been inhabited since at least 5000 BCE. Naturally, over that time, the city has taken a lot of influences and experimented with a huge range of styles and building materials.
While Barcelona was under Roman control for a time, the real history of architecture probably starts in the medieval period. During this time the style of gótico catalán took hold as Barcelona became more of an economic and political center. Buildings in this style include the Catedral de la Santa Cruz y Santa Eulalia and the Palau Reial Major.
Later on, the style of renacimiento (Spanish Renaissance) took hold which incorporated more imitation of Greco-roman and classical architecture. This can be seen in buildings like the Palacio de Generalidad de Cataluña.
In the 17th century, the baroque movement began which involved relatively simple forms and lines. This later gave way to neoclasicismo in the 18th and 19th centuries, which was then followed by historicismo in the 19th century.
For most of these styles, the only buildings that are still standing today are either churches or government institutions. Buildings from the baroque period include Basílica de la Mercè and Iglesia de Nuestra Señora de Gracia y San José. Neoclassical architecture is exemplified by buildings like the Llotja de Barcelona and Barcelona City Hall.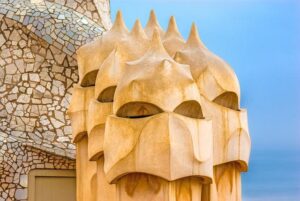 The Modern Period and Modernisme
Around the turn of the 20th century, an artistic movement was formed in Barcelona known as modernisme or Catalan modernism. This coincided with the Renaixença cultural movement, which is also known as the Catalan Renaissance which was focused on claiming and presenting a distinctly Catalan identity. Barcelona was the base of the movement, so naturally, a lot of its influences can be seen throughout the city. Today one of the movement's longest-lasting legacies is its architecture.
In terms of architecture, modernisme preferred the use of curves over straight lines, dynamic shapes, and intentional asymmetry. Decoration and exteriors were often richly decorated with fine detail and involved organic or natural motifs like plant life.
The most famous architect working in the modernisme movement at the time was Antoni Gaudí. His Sagrada Familia remains a global icon of architecture and probably Barcelona's most famous building.
Other famous buildings of the style include Casa Batlló by Gaudí as well as  Castell dels Tres Dragons (Castle of the Three Dragons) by Lluís Domènch i Montaner which takes influence from both medieval and Arab styles as was common in his work.
Numerous architecture works from the modernisme movement are now listed as World Cultural Heritage sites by UNESCO. Among others, these include Sagrada Família and Casa Batlló as well as Palau de la Música Catalana and Parc Güell.
Barcelona Architecture After Modernisme
The twentieth century saw huge changes to Barcelona's architectural landscape as well. As time passed different schools of thought and movements cropped up, adapted, and influenced each other. 
After modernisme, the movement of novecentismo took hold in the 1920s and 1930s. This period saw architects more willingly embrace Mediterranean and Greco-Roman styles. In fact, the movement was so large that it had several sub-currents such as gaudiniano and neobrunelleschiano (named after Gaudí and Brunelleschi). Today one of the most famous novecentismo buildings in Barcelona is Iglesia de Santa María Reina which itself is an example of novecentismo with neo-renaissance elements in Spain and Barcelona.
Since the 1930s there have been several movements that would take whole other articles to do justice to. Some standouts include racionalismo, which was a style focusing on practicality and Escuela de Barcelona which focused on logical, simple lines, and traditional construction materials.
In the twenty-first century, there's been a movement to combine architecture in the city with environmental sustainability. From the contemporary age, La Torre Agbar by Jean Nouvel is one of the most iconic buildings made during this time. Its towering oval cylinder was partially inspired by Gaudí's Sagrada Família.