Top Rooftop Bars in Barcelona
Finding the Best Top Rooftop Bars in Barcelona
Barcelona is a city with a lot going on and its nightlife is world-renowned both for being spectacular and for going on until the early hours of the morning. The rumors are true by the way. The nightlife is excellent, but one part that you need to check out is Barcelona's amazing selection of rooftop bars.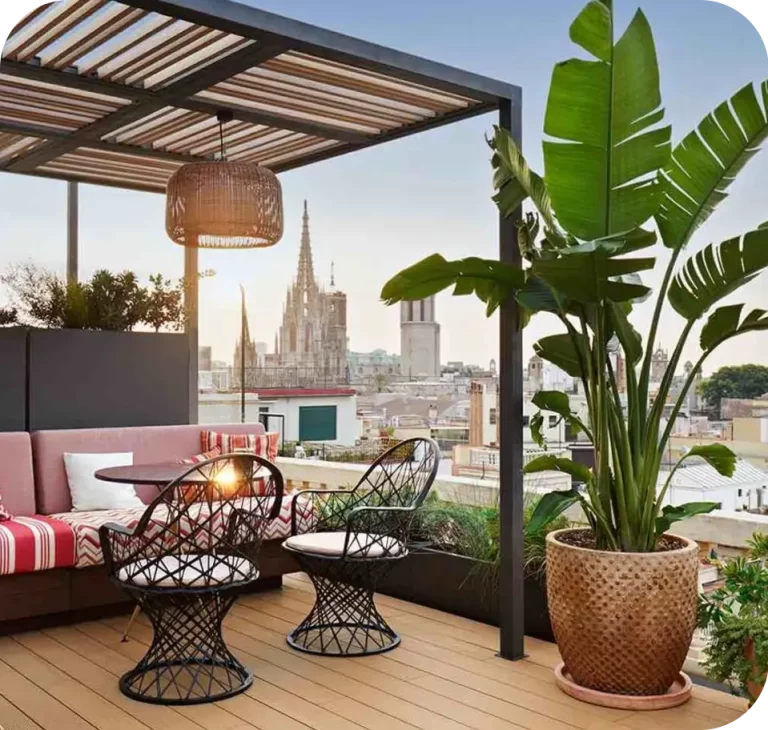 A bit of advice for Barcelona Rooftop Bars
Since you'll be outside, it's always good to consider the weather when heading out. The best time of year for a rooftop bar in Barcelona is between April and October. Outside of that, it can be a bit chilly but still comfortable.
When it comes to choosing one for yourself, our best advice is to know what you want. Some rooftops are better as bars for a leisurely hang with friends, others become frenetic dance floors. So it's best to have an idea in mind of what you want to visit. Knowing that you'll be sure to find something that fits your fancy. 
This article is going to be a run down of just some of the city's best rooftop bars. However, there are hundreds if not thousands of terraces and rooftop bars in Barcelona, so even if we listed forty, it would only scratch the service. For each bar, we'll mention the place, the price, and the barri (neighborhood) you'll find it in. Happy bar hopping!
Terrace at Hotel Colón - El Barri Gòtic
Located just across from Barcelona Cathedral, having a drink here will provide you with a great view over the Gothic Quarter. The view itself is usually described as exceptional. As a cafe and bar, this is more a spot for a calmer, more chill experience. A cocktail is around 12 euros.
360 Terrace - Barceló Raval Hotel - El Raval
This spot is a great place to relax or to party. The view is panoramic and there are binoculars available to enjoy it even more. Here you can find cocktails, beer, wine, and tapas with cocktails at about 10 euros. There's a live DJ from Thursdays to Sundays and it can get a bit wild by night with an upbeat vibe. Overall, a great place to watch the sunset or get on the dance floor.
Ohla Chillout Terrace at Ohla Hotel - El Born
Come to Ohla Chillout if you want to enjoy a bit of opulence. This is a swanky penthouse bar at the top of a luxury boutique hotel. You can enjoy lying out by the pool or going for a swim. As you enjoy the space, you can also have a cocktail. You can expect to pay a bit more with cocktails being 16 euros each.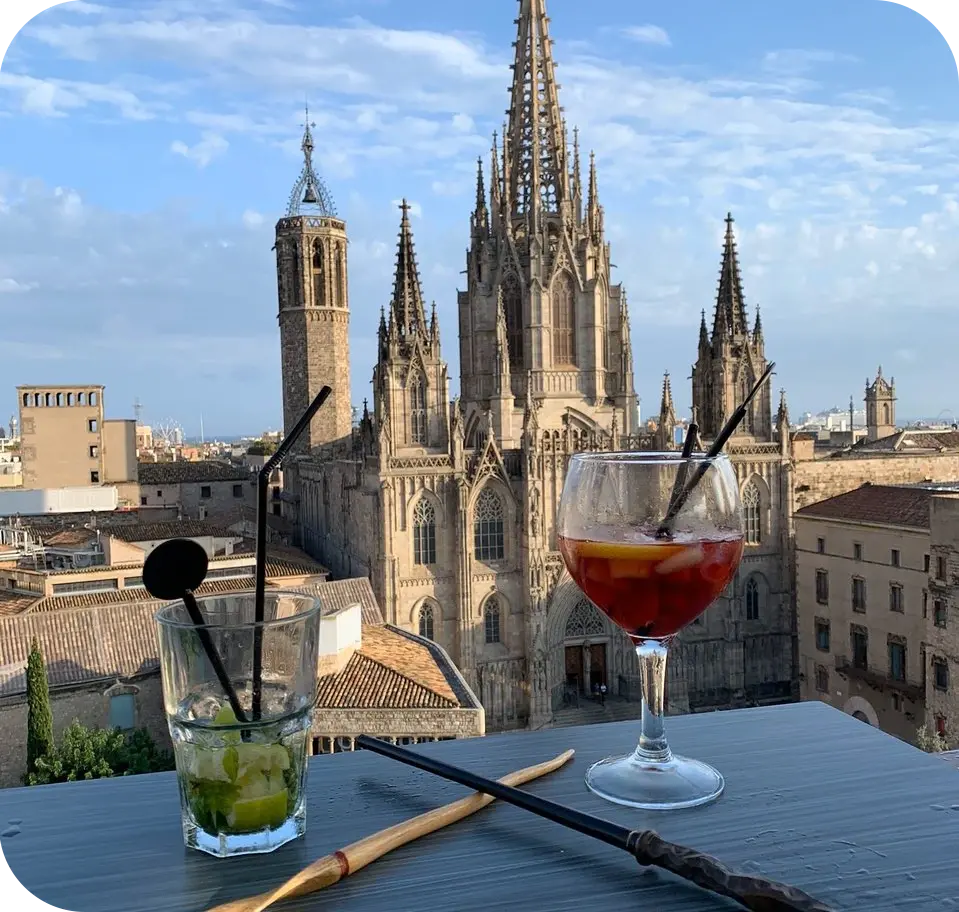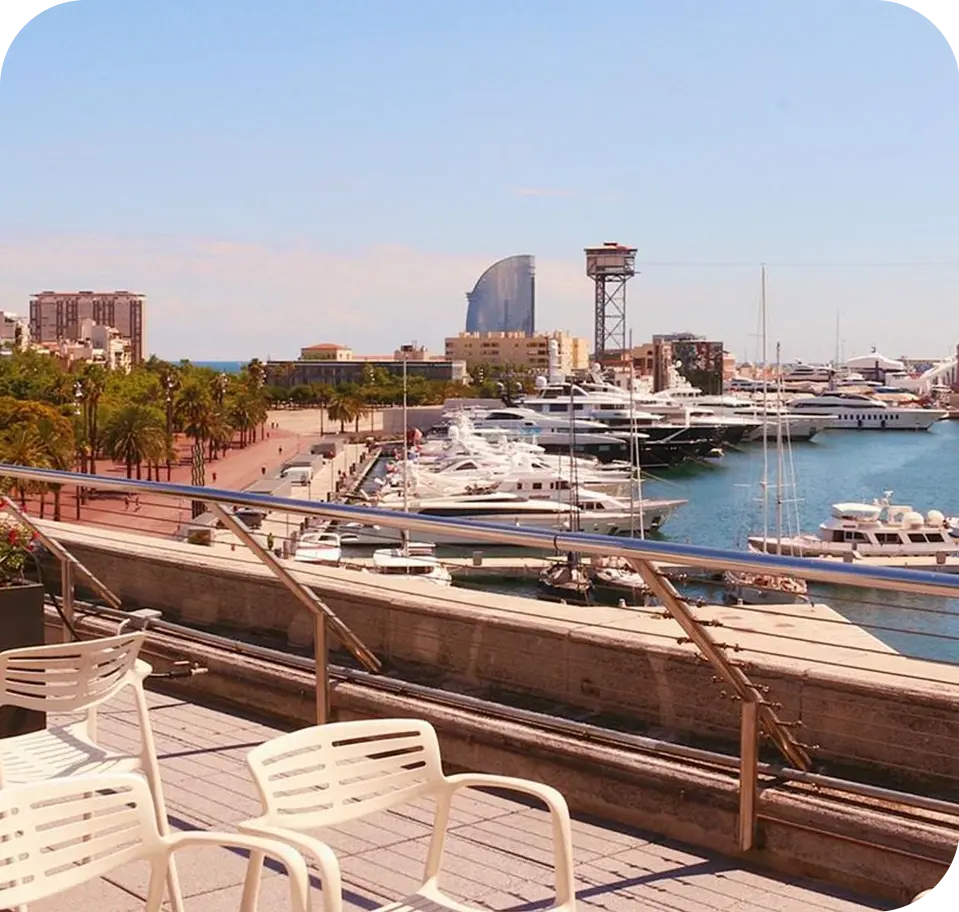 Sky Bar at Grand Hotel Central - Barri Gòtic
Sky Bar is great not just for its view but also for its location. It's located in the Gothic Quarter but still just a stone's throw away from El Born. It's got a great vibe that's more fun than it is crazy. And due to its location, it's also a great place to start out your night on the town. The entrance costs 16 euros which includes a free drink.
Royal Passeig de Gràcia Hotel
With its 360-degree view, Royal Passeig takes the concept of a rooftop bar to the next level. Here you can get a really dynamic view of the city. Be aware that's not cheap, but a good price when you consider the neighborhood. Cocktails range between 11 and 13 euros.
​​1881 per Sagradi - Barceloneta
This bar is located above the Catalonia History Museum (Museu d'Història de Catalunya) however the terrace on the fourth floor it's its own thing. Near the harbor, the bar has a great view of the port of Barcelona and the sea and a relaxed atmosphere. It can change from night to night, as there's sometimes a live DJ in the evenings. The restaurant serves Mediterranean-style food and boasts a large cocktail menu with an average price of 12 euros.
This is an ideal spot for a great view of the mountains and to enjoy a nice atmosphere. Because of the location, the view, and the prices, Mirablau tends to fill up fast. If you're really keen to go then be sure to book a table in advance. The space also has a club/disco with a dance floor, so you can choose what kind of night you want to have there. Cocktails are around 11 euros.
It's impossible to say. Rooftop bars are part of the city's nightlife and luckily for us, there are too many to count.
Absolutely, yes! A huge number of rooftop bars are restaurants or cafés in the daytime and turn into great dance spots at night.
Yes and no. Not every single neighborhood even has bars, but any barri with a large population has a rooftop bar. 
If You're Ready to Step into a Bigger Picture of Success, Let's Talk.
Start your adventure in Spain now!
Tell us your doubts about pathway courses in Spain, and we will contact you to solve all your doubts.